Comprehensive skin rejuvenation with Microneedling.
Enhance your collagen production and reduce scarring and wrinkles with minimal downtime.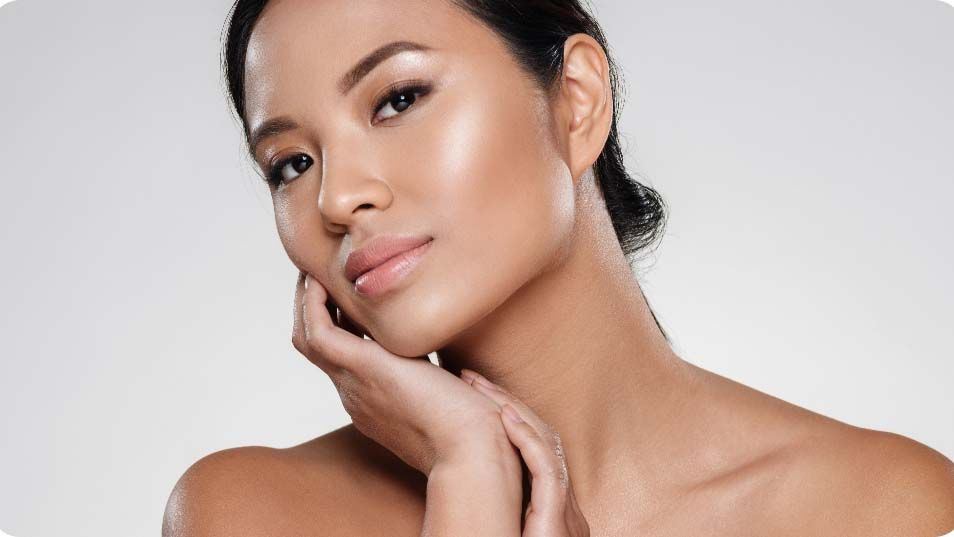 Over time your skin's color, texture, and tone can change, partly due to the natural decrease in collagen production.

Our experienced technicians can help stimulate your body's natural collagen production — improving your complexion, while also addressing scars and stretch marks with targeted Microneedling treatments.

So painless I even fell asleep

I got the PRP facial and it was amazing honestly so painless I even fell asleep during the treatment! Danielle my nurse was the best at making me feel comfortable and confident in my decision! super friendly and informative staff ! would recommend 10/10

- Jasmine

My skin feels and looks great

Aside from knowing exactly what he is doing, he explains everything and makes you feel 100% comfortable. I'm one session in on microneedling, and my skin feels and looks great.

- Soraya
A variety of Microneedling treatments to choose from.
Explore the Microneedling options we offer at Kalologie Medspa.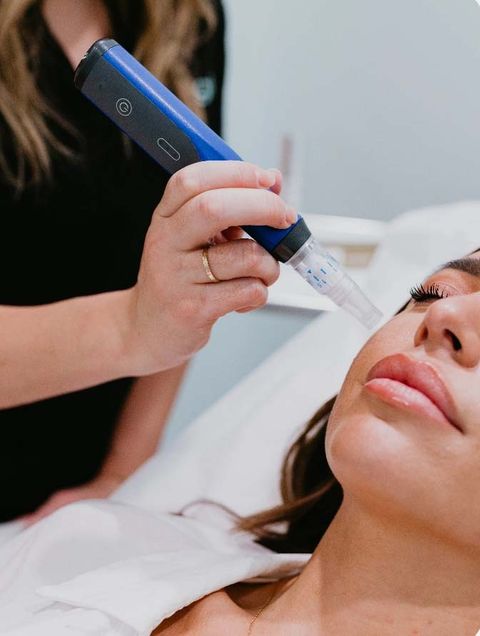 Microneedling
Addresses multiple aesthetic concerns like skin texture, fine lines, and wrinkles. Helps minimize the appearance of pores, scars, and stretch marks.
How it works: Also called collagen induction therapy (CIT), this minimally invasive procedure involves using thin needles to puncture the outermost skin layer. This process stimulates collagen production by triggering the body's natural healing process.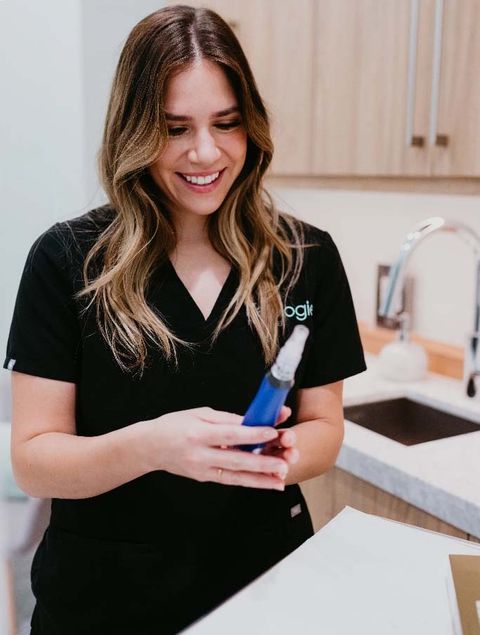 Microneedling with PRP
Enhance the outcomes of microneedling with the addition of regenerative platelet rich plasma.
How it works: PRP delivers highly-concentrated amounts of natural growth factors and cytokines to the skin, which promotes the regeneration process. Microneedling helps PRP penetrate the skin to better stimulate collagen and elastin production.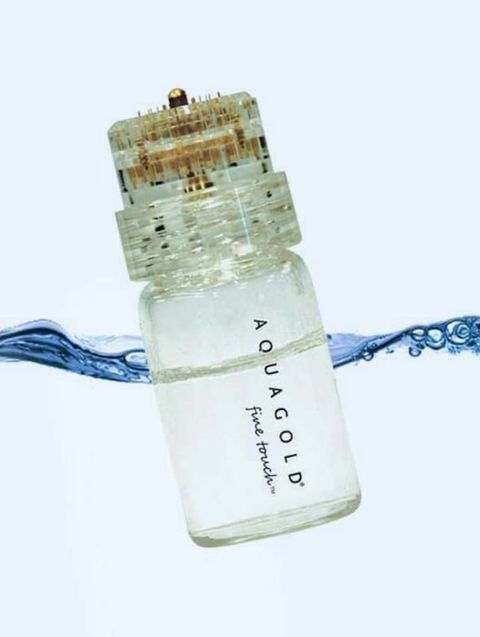 Aquagold
Deliver hydration and rejuvenation directly to your skin without the pain. Thinking of getting Botox or Dermal Fillers? Aquagold is a wonderful add-on.
How it works: Aquagold's patented micro channeling technology is designed to painlessly and effectively deliver bioactive compounds into the skin. When performed with Botox, this procedure treats facial flushing and large pores. When combined with Dermal Fillers, it addresses dry skin and under-eye crepiness.
What can you expect from Microneedling?
Extraordinary is our baseline. Here are some of our Microneedling results.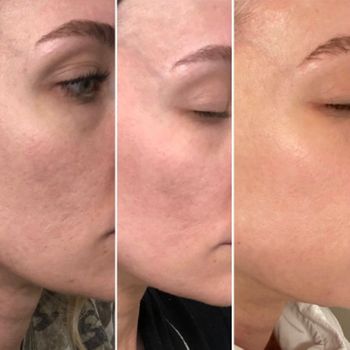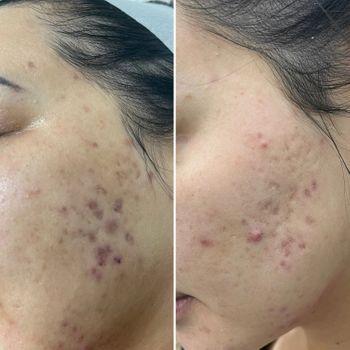 Microneedling pairs well with…
Ask our in-house beauty experts about adding these treatments to your Kalologie Medspa experience.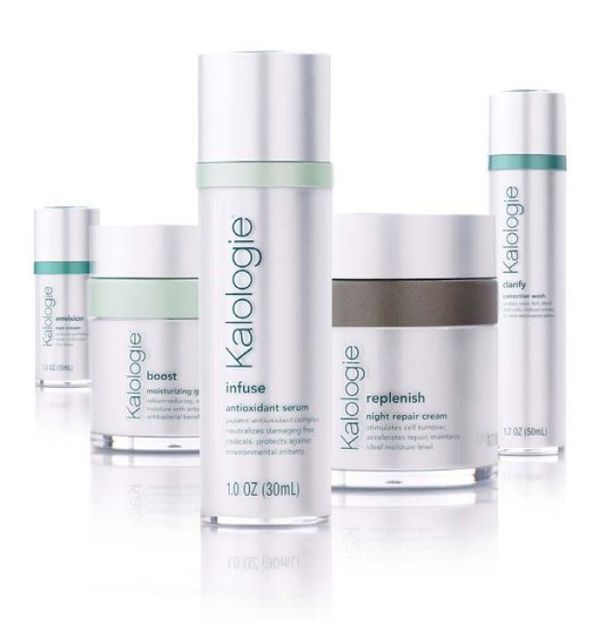 Keep your skin looking great at home with our Kalologie products.
Enhance your outcomes at home with our Kalologie products. Choose from the expertly curated Kalologie skincare products below to complement your treatment:
FAQ ABOUT OUR MICRONEEDLING TREATMENTS
Am I a good candidate for microneedling?
As a minimally-invasive procedure, microneedling is safe for almost anyone. However, if you currently have acne or any blood-clotting issues, speak to your provider first before getting microneedling.
How long does microneedling take?
Microneedling appointments are quick and easy to fit into your busy schedule.
Reach out to your local Kalologie Medspa and see how quickly we can get you in for a visit. Think of your easiest booking experience — we bet we'll be easier.
What should I do after I get microneedling?
Microneedling has relatively little downtime — any slight redness or swelling generally dissipates within 24–48 hours and light skin peeling should go down within a week.
After that, enjoy beginning to see your results! And book your next treatment with us at your local Kalologie Medspa.
How much does microneedling cost?
The price of microneedling can vary depending on your location and how many treatment sessions you book, so for the most accurate estimate, reach out to your local Kalologie Medspa.
For an estimate of how much our treatments may cost — and to see available financing options — please see our Pricing page.
When should I expect to see results from a microneedling treatment?
Results may vary, but you may begin to see results from your microneedling treatments after about 4 to 6 sessions. The skin needs time to renew itself, so we recommend a few treatments to optimize your results.
Who knows? Maybe you'll become one of those gorgeous gallery images yourself.
What if my question isn't listed here?
It's perfectly understandable to have questions before getting microneedling.
Our expert practitioners are here for you. We want you to understand your chosen treatment, how and why it works, and if it's right for you before you commit.
Reach out to your local Kalologie Medspa today to book a consultation.

Exceptional results with minimal downtime.
Ready to rejuvenate your skin? Reach out to your local Kalologie Medspa to find out more about our Microneedling.